Safe from Harm at Jota Joti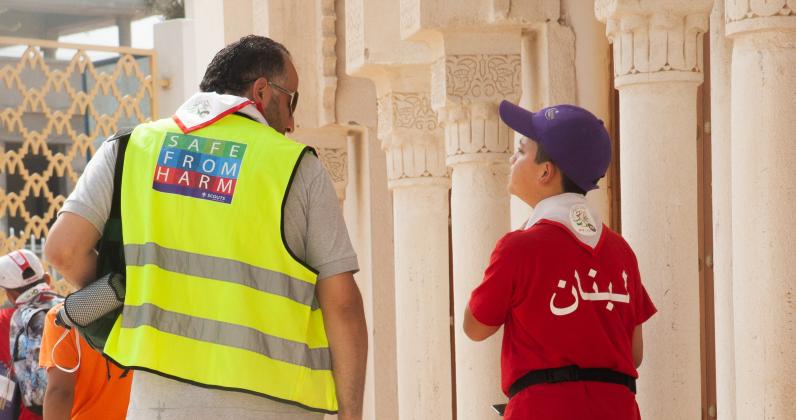 Safe from Harm is a set of actions that are designed by World Scouting to make sure all Scouts feel safe at any time during Scouting activities. JOTA-JOTI is no exception! That is why this page will allow you to better understand how to make sure you feel safe at this world event!
Safe from Harm is a priority for Scouting. It is the responsibility of all of us to create a safe environment for all during JOTA-JOTI. On this page you will find some tips to stay safe and how you can find help, if you need it!
Dangers on the internet
Unfortunately, the Internet can sometimes be an unwelcoming and unpleasant place. Some people can have wrong intentions and we all need to be aware of this and know how to respond.
This page will help you to find the tips you need to stay safe during the event. These tips will help you to have a safe and enjoyable JOTA-JOTI. To learn more about your online safety and to be fully prepared for JOTA-JOTI why not take our cybersecurity e-learning!!
Breaking the rules
If the rules below are broken by anyone, a range of sanctions may be taken against the account(s) which broke the rules. Unfortunately, if you are connected with a group, the sanctions towards the account could cause the entire group to be excluded from JOTA-JOTI.
To make sure this does not happen, here are some tips on what to do and not do during JOTA-JOTI
DOs
Have an adult around you at all times whilst online
Respect everyone and be friendly with all the people you will meet online
Keep your passwords safe
Behave like a Scout - following the Promise and Law at all times
Have fun and meet new Scout friends
DONTs
Share any personal information
Be rude or send offensive messages to anyone
Share any content that could hurt someone
Keep to yourself something you saw, or you witnessed and that hurt you or a friend – always tell an adult
You need help? This is what to do!
Talk to your adult leader or a responsible adult
Email safejotajoti@scout.org with your name, the platform it happened on, what happened, the name of the account who did it and a screenshot of what happened
A moderator will answer to your email as fast as possible in English, French or Spanish
Safe from Harm Guidelines
The purpose of the WOSM Safe from Harm policy is to protect all our members from harm. Abuse, harassment and bullying are completely unacceptable within Scouting.
For JOTA-JOTI our aim is to protect young people online and to provide valuable information to Leaders, parents and volunteers on our approach to safeguarding in this environment.
The rules apply to all participants using WOSM's online platforms or those of our Trusted Partners for JOTA JOTI. If anything goes wrong or upsets you when using these online platforms, reach out to your adult leader or write to us at safejotajoti@scout.org and we can help you to follow up with your NSO's International Commissioner or Safe from Harm co-ordinator.
We are committed to our responsibility to ensure that each participant's experience of JOTA-JOTI is as safe as possible as they network and make new friends across the world.
We have a dedicated team of moderators who will monitor the JOTA-JOTI platforms to ensure that all our users are safe from any possible online harm. The moderators will work with our Safe from Harm team to follow up on any safety concerns raised.
This policy is implemented alongside the WOSM Code of Conduct that outlines how members of WOSM are expected to behave with other Scouts.