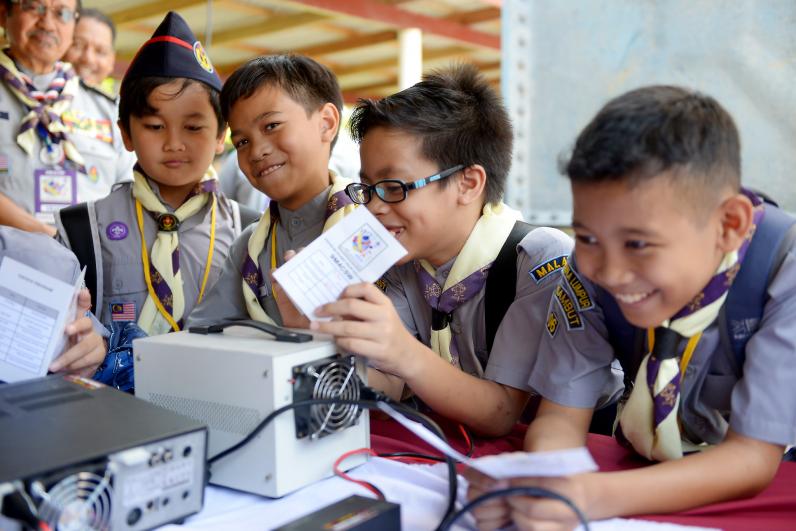 You will find here:
How to keep yourself and others safe
We encourage all participants to be prepared for a safe event by reading this page carefully and following the Safe from Harm guidance.
Follow the recommendations of local health authorities and the WHO
Review the information below on how to be safe online & on the air
See below for minimum age and supervision requirements
Minimum Age for participation & Adult Supervision
Participants must be 13 years or older to sign-up for JOTA-JOTI. To ensure everyone's safety and wellbeing, all participants between the ages of 13 and 18 are expected to inform and involve a parent or guardian in their JOTA-JOTI experience, including reviewing this page together. The adults involved are responsible for supervising children's online activities. A parent or guardian can register on behalf of a child younger than 13 years old, and is asked to participate with them for the duration of the event.
Prepare yourself to be safe online or on the air
Online Safety
With all of its opportunities and enriching content, using the Internet also comes with many risks, including threats to personal data, wellbeing or safety.
We strongly encourage all participants to take our Be Safe Online e-learning course to learn more about online safety and to be fully prepared for JOTA-JOTI and other online activities.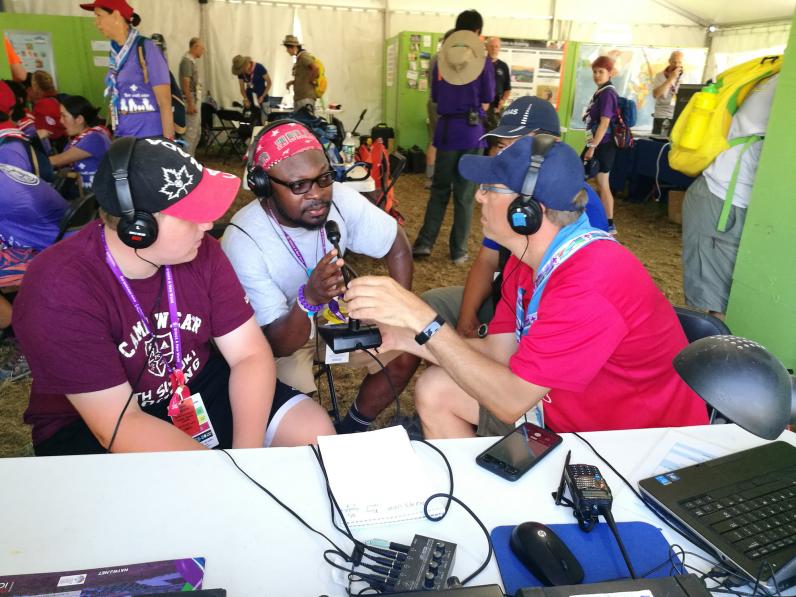 Amateur Radio Safety
Amateur Radio is used by licensed operators who supervise young people using their radios. The licensed operators are aware of the safeguarding procedures of the event. They monitor the conversations on the radio and ensure that there are no inappropriate conversations.
Remember: Radio conversations are not private. Personal contact information should never be shared over airwaves. Read more about the Amateur Radio Code of Conduct.
The Safe JOTA-JOTI Pledge
Breaking the pledge
If any rules from the Safe JOTA-JOTI pledge (above) are broken by any participant, a range of actions may be taken against the offending account(s), such as suspending or deleting the account, or being contacted by the Safe From Harm team for further investigation.
Explore the Listening Ear support
One of the first and best ways to support someone is to listen. Lending an ear to someone is an expression that means you are willing to listen and sympathize with someone. Listening Ears at Scout events do exactly that -- they are always willing to lend an ear and offer support.
The Listening Ear's role is to guide and support a Scout in need whether the Scout is faced with a a risk of harm or experiencing discomfort at the event. Listening Ears offer a welcoming, safe, non-threatening, non-judgmental environment for Scouts to seek help proactively on behalf of themselves or others. In addition to this, as the first point of contact, a Listening Ear supports the mental and emotional wellbeing of all event participants, regardless of their age or professional role.
Request Listening Ear support on safejotajoti@scout.org.
Need help? Here's what to do!
First, tell a trusted adult about your concern, such as a parent, guardian, or Scout leader.
E-mail safejotajoti@scout.org with your name, the platform the incident happened on, what happened, the name of the account which worries you, and a screenshot of the incident.
A moderator will answer your email within 30 minutes or less. Our moderators are able to reply in English, French or Spanish.
Safe from Harm General Guidelines
Safe From Harm is a priority programme for World Scouting, with actions and procedures designed to help keep all our members safe. The World Safe From Harm policy is implemented alongside the WOSM Code of Conduct, to outline to WOSM volunteers, staff and partners how they are expected to behave with others. Abuse, harassment and bullying are completely unacceptable within Scouting. That is why having a Safe From Harm procedure is mandatory for all world, regional and national Scout events. This includes mandatory Safe From Harm training for all WOSM staff and volunteers.
Throughout JOTA-JOTI, we aim to protect young people and to provide valuable information to adult leaders, parents and volunteers on our safeguarding approach.
We are committed to our responsibility to ensure that each participant's experience of the JOTA-JOTI is as safe as possible as they network and make new friends across the world.