Minecraft is the most downloaded game in the world and for a good reason! The possibilities for play are endless. Whether you craft something creative out of blocks (like virtual Legos) or whether you work with others to survive a world where monsters come out at night, Minecraft can be as challenging as it is enjoyable.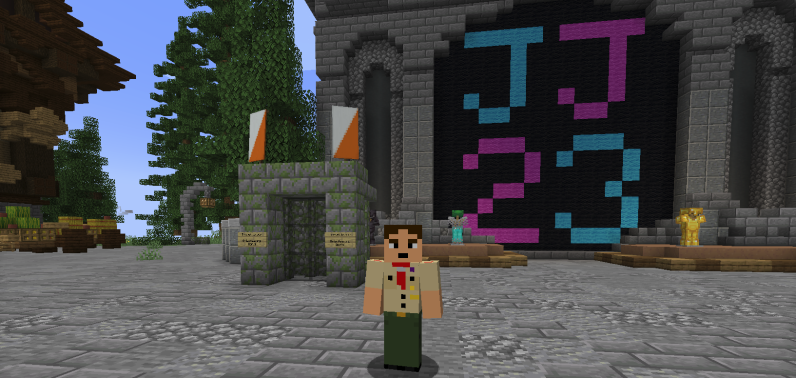 Just like Scouting, Minecraft is most fun when played with friends. We help children and young people explore the world in a safe, fun, age-appropriate environment.
Parents should always know which multi-player server their children are using, and Scouts should always get their parents' permission before joining a multi-player server.
We now have our own small hub server where you can find links to all Scout-run servers, and also explore a small world with scouting-related activities like:
a hub that links to all the other Scout-run Minecraft servers (see below)

bird-watching

flag-making workshop

virtual orienteering courses of different levels

and a veeeery high rope bridge to which only the most clever Scouts will find the entrance!
Join our JOTA-JOTI Minecraft server:
Game server: mc.jotajoti.info
In addition, you can find a much broader range of gameplay on the following servers, which are all run independently by local Scout Groups. You can join them from our hub, or you can visit them directly at their server address:
ScoutWired offers Creative, Survival and Minigames. Check out their JOTI 2023 program for Minecraft Build Battles and Mini Games!

Game Server: minecraft.scoutwired.org


ScoutLink offers an expansive Survival World, Creative plot, SkyWorld and some new games for this year!

Game Server: minecraft.scoutlink.net

Oxfordshire Scouts in England also have Survival and Creative.

Game Server: minecraft.oxonscouts.org.uk (note: not always live)
Whether or not you already use Minecraft, be sure to get your parents' permission to check out these worlds.
If you don't already have Minecraft but are now curious, there is a good description at https://scoutwired.org/minecraft/ about how to join their (or any other) server.